The Woods Maine Gives Back
06/11/2020
Giving matters: Supporting the community we love.
Today, probably more than any time in recent history, community – taking care of each other and supporting our neighbors – is more important than ever. When we discovered Norway, Maine over five years ago, the town, the people and the sense of unhurried tranquility immediately captured our hearts. We knew it was a place to bring our family and lay down roots. Norway embodies the foundation on which we built The Woods Maine. Building the treehouse was our dream – building up the community is our mission. We wanted to embrace the spirit of the town and give back to the place and people we love so much.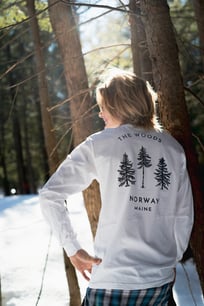 Being kind, compassionate, giving and open are the core values we believe in and what we hope will be the legacy of our brand. That's why we are introducing The Woods Maine Gives Back. It is through this program that we hope to make a difference in Norway and Oxford County; to channel our desire to leave the world a better place than we found it. This program is designed to take a portion of each apparel sale and directly contribute it to our community.
Through The Woods Maine Gives Back, we are bringing to life our social mission in the community: contributing to the vitality of local businesses in support of our neighbors and building lasting relationships with other stewards of our local waterways and lands.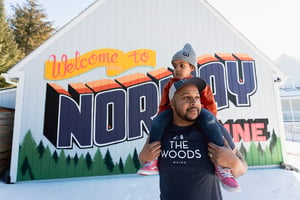 What we've accomplished.
Last winter we collaborated with MaineLife Media to feature our beloved Roberts Farm Preserve on Season 5 of MaineLife. It was important to us to spotlight the hard work and dedication of the Western Foothills Landtrust, which has given so much to this community.
What's next.
We are excited to announce that we will be taking a portion from the first six months of our apparel sales and putting it directly back into local businesses.
We've curated a gift basket valued at over $400 from our apparel sales to be given away to one lucky winner. The basket includes:
The raffle will be held at The Tribune, located at 430 Main Street, Norway ME on July 3 at 12pm on Customer Appreciation Day. Raffle tickets can be purchased at the Tribune for $5 per entry, now until July 3. 100% of the proceeds will be donated to The Alan Day Community Garden, to help further their mission of an enduring community food system.
Looking ahead to the second half of this year, we will continue to give back a portion of each sale to support The Western Foothills Landtrust.
Cheers & Trees,
Rob & Samantha
Shop: The Woods Maine Shop or our store inside The Tribune, 430 Main Street Norway, Maine
Stay: www.thewoodsmaine.com