The Woods Maine Fall Collection: Gifts That Give Back
10/03/2020
Made for Maine: Our Exclusive Fall Collection Is Here
There's just something so incredibly special about Maine in the fall. The foliage. The picturesque landscape. The pure, crisp air. It's the breeze rustling the pines. The snap of twigs as deer slip gracefully through the woodlands. The call of the loon. The splash of the trout as they disappear beneath the surface. And maybe, just maybe, a glimpse of an elusive fox as you explore the beauty of our spectacular local trails.
It's a lifestyle – intoxicating, invigorating… liberating. It's a feeling you want to draw close, wrap around you. Wear.
We've captured that feeling with our Fall Collection. An expression of that inexplicable, all-encompassing love for Maine that brings you back time and time again. Introducing The Woods Maine Shop's Fall Collection:
The Woods Maine Sea Bags Collection
Handcrafted in Portland by Sea Bags for The Woods Maine. Each bag is crafted from sails that have known the sea and features its own characteristics – from color variations to unique stitching and more – making it truly one of a kind. These bags are made to be tough, so fill them up to the treetops and set sail on your next adventure!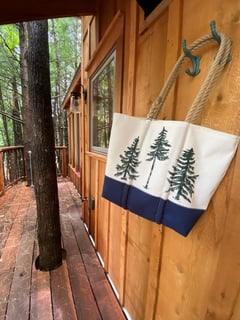 The Woods Maine Collection from CHART Metalworks
Chart your course from the seas to the trees and keep Maine close to your heart – wherever life takes you. Beautifully handcrafted in Maine by the artisans at CHART Metalworks, each piece in this collection – from jewelry to home accents– is meant to be a keepsake that forever marks your love for the place we're humbled to call home.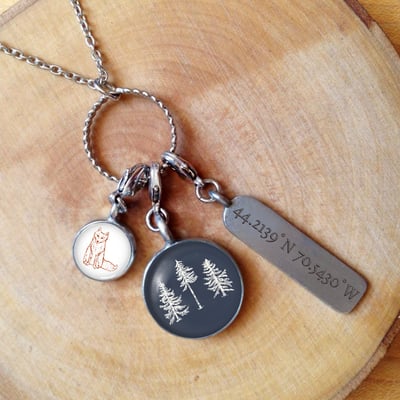 As rugged as the Maine landscape and equally cozy! Experience our latest collection of your favorite Heavy Hoodies and Long Sleeve Tees. Now in forest green, featuring beautifully hand-sketched artwork that brings to life the iconic features of our local landscape. Thoughtfully designed with comfort, warmth and durability in mind – you'll want to live in these any time there's a chill in the air.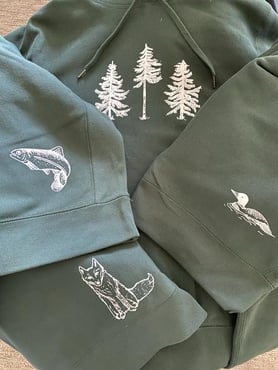 The Woods Maine Gives Back
The Woods Maine was born out of admiration and awe for the spirit of our local communities. A portion of every sale supports the Western Foothills Land Trust, dedicated to the conservation and preservation of native ecosystems, farm and forest lands, watersheds, and scenic landscapes for the benefit of wild and human communities in Western Maine.
Shop Online: www.thewoodsmaineshop.com
Shop In-Store: The Tribune 430 Main Street, Norway Maine
For yourself or as a thoughtful gift for someone special as the holidays approach, when you wear and share The Woods Maine, you stand for more than comfort and style. Enjoy!
About The Woods Maine
The Woods Maine was made to celebrate our place the way locals, insiders and adventurers know best. The rustic, woodsy, know your name kind of Maine. You won't find boat shoes or lobsters here, but better yet, rugged paths, lush trees, pristine lakes, and a whole lot of deer. Our apparel is inspired by the infinite richness that surrounds us. Cozy and comfortable, created with intention and designed to last. Each piece is a nod to those who know—a token of a beloved way of life that we are proud to call our own.
When you wear the Woods Maine you stand for more. Every purchase gives back to organizations that support and protect the landscapes that we're humbled to call home. Discover well-made goods that do good, and wear Maine wherever you go.
The Woods Maine is an original lifestyle brand for thoughtful consumers. Experience a celebration of place like no other with signature hand-drawn apparel that gives back to local landscapes, and a luxury treehouse made for immersive, extraordinary Maine stays.