10 Ways The Woods Maine Is Adapting To The Future Of Travel
05/28/2020
Covid-19 has forever changed the way we approach travel and hospitality. We are looking at this as an opportunity to adapt to the new world, understand the new needs of guests, and deliver an experience that will leave them wanting more.
Moving forward guests looking for a luxury travel experience will seek out options that are: Safe, secluded, and comfortable without compromising the experience.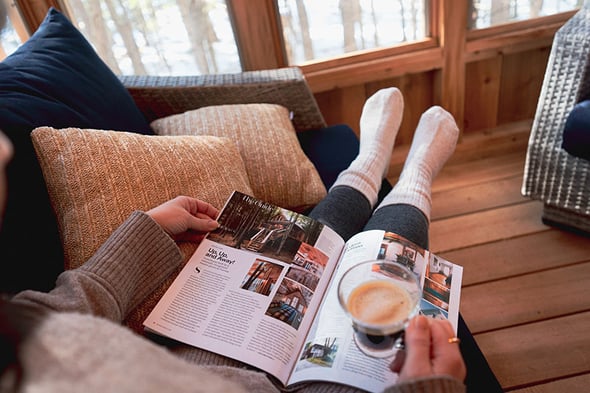 "With overcrowding now viewed as a health risk, personal space and cleanliness will become paramount. One thing that's loud and clear from our clients: Any short-term travel needs to be private," said Jack Ezon, the founder and managing partner of Embark Beyond, a luxury travel agency. "Finding a 'hermetically sealed' option seems to be the most responsible solution." At the luxury end, that means increased demand in villas and luxury hotel brands like Aman, known for its remote locations and stand-alone accommodations, and Rosewood, where many properties have residences with private entrances or elevators. "While in the past privacy could be viewed as a nonessential privilege, today it is considered a key element to sustaining personal safety and security," said Radha Arora, president of Rosewood Hotels & Resorts." NY Times Travel
So what are some new policies and amenities we are offering guests?
1) Time Between Guests: We now aim to have 36- 48 hours between each guest. We will also be decreasing the number of available nights per month to limit the total number of guests staying with us. So you may want to book now to secure your preferred date.
2) Self Check-In: Guests will be given a code to access the treehouse upon arrival and our phone number to text/ call us / or FaceTime us when they arrive (or during their stay). From there we can welcome guests and ensure we give them all the information they need with adhering to social distancing guidelines.
3) Cleaning: We have implemented new cleaning procedures to ensure surfaces have been disinfected and sanitized between each guest. We have also invested in equipment and Vital Oxide to ensure all hard and soft surfaced are properly treated. We will also continue to follow CDC guidelines.
4) Slippers: We have always had a no shoe policy in our treehouse, but now its more important than ever. Now we will provide guests with clean spa slippers they can use during their stay.
5) Masks & Hand Santizer: We will provide guests with custom Woods Maine masks that will be included in our welcome gift for our guests to use and keep. You will also be able to purchase them on our online shop when they become available. We have also partnered with 44th North located at Handmade Maine in downtown Norway, Maine for fragrance free hand sanitizer for guests to use and take home with them.
6) Our Concierge Service: The Woods Maine is partnered with hospitality expert Your Maine Concierge by Vanessa Santarelli to provide curated and exclusive experiences. These include in treehouse Chef-cooked dining, personalized day-trip itineraries, private massages at the treehouse, or anything else you might want to experience while staying at The Woods Maine. (note: there are additional costs associated with these special arrangements- contact Vanessa for more information)
7) Local Food Delivery: We have several restaurants and local shops that are doing curbside pick up for guests. You can order online (yes, the treehouse has wifi) and venture into town for pickup- or we are happy to pick up for you and leave it on the treehouse doorstep.
8) Chef's Kitchen: Our treehouse is equipped with a full chefs kitchen. This allows our guests to bring in their own food and never have to leave the treehouse. In the event have specific items they would like upon arrival. We will be open to working 1:1 with guests to have those items available upon arrival.
9) Flexible Policy For Guests: We will work with our guests as we understand we are in a new and unpredictable world. If a guest cannot stay with us for reasons due to Covid-19. We will work with them individually to find the best solution given the circumstances.
10) Monitor State Regulations: We will be adhering to the recommendations and the State of Maine when it comes to in state and out of state travel. We have proactively halted all rentals until at least then end of July 2020 as we want to ensure we are comfortable opening for guests.
We aim to continue to be creative and adapt to the new world we are all living in. We will seek to add new amenities that allow our guests to feel safe, secure, comfortable and at home during their stay.
"These days, there is perhaps no greater luxury than being wrapped in soul-stirring natural beauty, waking up to the soothing sounds of birds, smelling the intoxicating scent of pine, witnessing the morning sunlight beaming through the towering trees and soaking in the fresh mountain air." Our Wooden Wonderland Feature in Luxe Digital
We hope to meet you all soon. Stay safe, be kind, and do your part.
Cheers & Trees
Samantha & Rob