The Origins Of How Norway, Maine Got It's Name
02/16/2020
When one hears of a town name in the United States that is the same as that of another country, it is natural to assume that the town was named after the country. But for the western Maine town of Norway, that is not the case.
Originally named Rustfield, Norway, Maine was incorporated in 1797. According to the Norway Historical Society's website, there weren't even Norwegian settlers in the area. So how did it end up with the name Norway?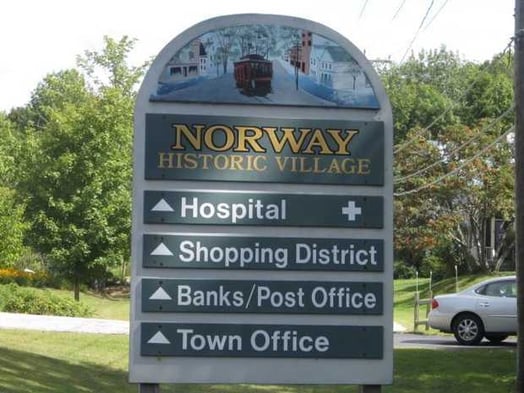 Photo Credit: Sun Journal
As reported by the historical society and the 1955 book Maine Place Names, a clerical error in the Maine Legislature is to blame. The townspeople had sent their petition for a name to the Legislature, writing it as "Norage," and when the approved request was returned from government officials the name had morphed into Norway, and so it became the official name of the municipality. A simple misreading and miswriting of a word resulted in the name of a town which has now stuck for over two centuries.
It is thought that Norage was a bastardized spelling of the Native American word "Norridge," which means waterfall. Given the town's proximity to Steep Falls, this is certainly plausible. Another town in Maine now bears the phrase "Norridge," though the town of Norridgewock is located in Somerset County, about sixty miles from Norway.
From Rustfield to Norage to Norway, the town has retained its charm. When you visit the region you can learn more about its history and experience the beauty of Western Maine for yourself.