Diving into Maine's Finger Lakes
02/16/2020
Here in Maine we are familiar with having our cities and natural wonders named, or confused, with more well-known destinations across the country. This tradition is all in good fun and goes back to a coin toss in 1845 that decided a new settlement in Oregon would be named Portland after the most populous city here in Maine. Another example; when people hear Twin Cities their minds tend to bring them to the Minneapolis-St. Paul metropolis area located on the banks of the Mississippi River. You'd have to be here in Maine to have "Twin Cities" refer to the Lewiston-Auburn area. And then there is the geographical layout of our lakes here and around Norway, Maine and throughout the Lakes Region. Believe it or not the Finger Lakes are not just for New York. We have our own version right here in western Maine. If you let your imagination run a little bit, with Sebago Lake as the palm, we even have a whole hand!
While Sebago Lake gets the bulk of attention here in the Lakes Region, we'd like to focus on the smaller "fingers" in Cumberland and Oxford County. With just as much to do, and a healthy stock of fish to catch, the fingers here are pristine and unspoiled, yet not often discussed outside the state. We are here to let you in on the secret, hoping you'll be able to take home a piece of authentic Maine few get to see.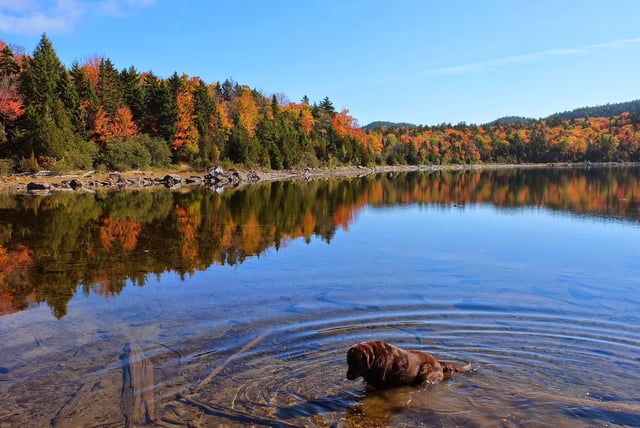 Moose Pond | Photo Credit Hiking In Maine With Kelley
The fingers of the region are made up of four lakes (just like a hand, get it!): Thompson Lake, Long Lake, Highland Lake, and Moose Pond. These lakes are just a short drive from us here at The Woods Maine if you decide to take a day trip away from the shores of Lake Pennesseewassee. We've touched on Thompson Lake here before. At seven square miles, it is designated one of the top ten bodies of water for quality in the state. It's untouched beauty like this you should expect from the smaller lakes here. Without the traffic you get an unfiltered experience on the waterfronts. In fact, one study found that boat use on Thompson Lake is 80 percent under utility.
The other lakes offer their own unique histories and features as well. Long Lake, its tip pointing towards Oxford County, has a set of literary fun facts paired to it. Author E.B. White owned a home on the North Bridgeport shore of the lake, and Stephen King's eerie The Mist takes place here. Highland Lake was originally known as Duck Pond but in the modern day celebrates its water quality and community, and has an association dedicated to its upkeep and events. Moose Pond follows in the tradition of many Maine lakes with impressive fishing opportunities. According to the Maine Department of Inland Fisheries and Wildlife you'll find; landlocked salmon, rainbow smelt, sunfish, and more. Impressive for a lake that never reaches 100 feet deep.
Of course, the lakes of the Lakes Region are not limited to these four. In fact, if we continue the metaphor, Lake Pennesseewassee is something like the fingertip of the other lakes. It stretches out into Oxford County, drawing on the crisp fresh waters of the region. Lake Pennesseewassee spans 922 acres of crystal clear water with a maximum depth of 48 feet. It sports bass, large and small, and perch, yellow and white. When the day is over and you've dipped your toes, paddles, or fishing rods in the other lakes across the area, we promise nowhere else will feel like home when you come back to take in a starry night from our shores here in Norway.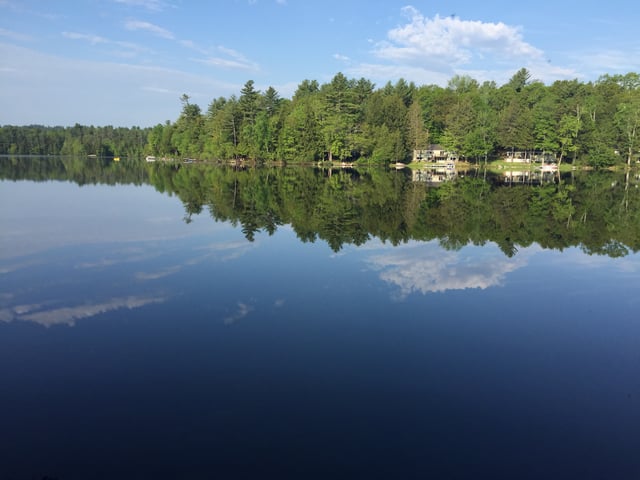 Lake Pennesseewassee (also known as Norway Lake). Photo Credit: @dovewayme